Home Books Articles Speaking White Papers/Case Studies
This book is a concise report on the most noteworthy developments in artificial intelligence, a field of endeavor that's been around since the 1950s. But now, with a breakthrough called "deep learning," artificial intelligence is finally getting human-like intelligence. The AI redux, Cognitive Computing, is having a transformational impact on work and society as a whole.

"Artificial Intelligence is likely to change our civilization as much as or more than any technology that's come before, even writing." —Brundage and Bryson, Future Tense
"The smart machine era will be the most disruptive in the history of IT." — Gartner "The Disruptive Era of Smart Machines is Upon Us." September 2013
[Description]

Click on book cover to learn more.




Business Process Management: The Next Wave. The idea of having all the intelligence centrally managed and delivered is a challenging, if not impossible outcome. This book strives to provide insights and outline strategies for transforming current BPM approaches and technologies by harnessing distributed intelligence in the form of intelligent agent technology. Agent-oriented BPM (aoBPM) will allow BPM to take on all of what is expected of it as organizations accelerate growth and connect better with their customers, while providing greater agility and near real-time responses. The book provides a starting point that will help you know what is coming, and how to think about addressing it.
[Description] Click on book cover to learn more.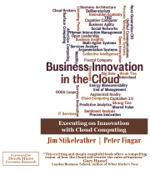 Business Innovation in the Cloud. Thomas Edison said it famously, "Genius is 1% inspiration and 99%perspiration." This hard-hitting book is all about that 99%--executing on innovation in the 21st Century world of exponential and unpredictable change. The book, in an innovative multimedia format, provides an agenda for enabling innovation in your organization, and lays out a strategy framework for execution by harnessing the revolutionary business platform, the Cloud. Creativity and great ideas will always be important--but execution is all when it comes to business innovation. Thus, the book is an impassioned plea to reinvent innovation as we know it-- to rethink the fundamental assumptions we have about business innovation and innovate innovation itself.
[Description] Click on book cover to learn more.
Serious Games for Business: Using Gamification to Fully Engage Customers, Employees and Partners. Using an innovative multimedia format, this book turns the inevitable alphabet soup of gamification terms into a gourmet delight with true business substance. Readers will no doubt find themselves exploring the book's concepts through the 60+ videos, articles and lectures cited with tiny URLs and smart phone QR Codes, all of which jump off the printed page to provide further insights from recognized experts. When well implemented, gamification can transform a work culture by cultivating deep emotional connections, high levels of active participation, and long-term relationships that drive business value. On the other end of the spectrum, businesses can utilize strategy games, simulation games, and role-playing games as means to teach, drive operational efficiencies, and innovate. In this book you will explore the many aspects of using gamification in business and find case studies describing how organizations have embraced social collaboration using playful design to reap tremendous value. [Description] Click on book cover to learn more.
Smart Process Apps: The Next Breakout Business Advantage. The rise of the Smart Process App is not just another platform shift. It will profoundly change how people live and work, and how companies operate. How do SPAs help? They are light weight and easy to change. They assume mobile media (smart phones and tablets). They use big data, analytics and human collaboration to predict events and drive actions. And unlike ordinary mobile apps, they integrate and leverage core business systems. The goal of Smart Process Apps is to improve this messy range of human-based activities. Unlike structured processes, where automation can replace people, SPAs can enhance the capabilities of the people doing unstructured work. And because such work commonly provides the most value in modern organizations, improving unstructured business processes can generate the most competitive advantage today. SPAs support the way knowledge workers actually do their work, how they use their problem-solving skills, and how they make decisions that drive a process forward.
[Description] Click on book cover to learn more.
The COO Revolution: Reinventing Customer-Facing Processes for Moments of Truth. What do CEOs now demand of their COOs? The reinvention of customer-facing processes for moments of truth. The book asserts that the primary role of the modern COO should be that of delivering customer experiences that delight! While traditional back-office functions will certainly not go away, the book encourages COOs to pivot and also focus on the front office. This expanded role is made possible by the many principles and technologies discussed in the book. This new-found ability to leverage smarter process management can transform your business into a dynamic, real-time, customer-driven enterprise.[Description] Click on book cover to learn more.

Dot Cloud: The 21st Century Business Platform. According to Jim Sinur, Vice President of Gartner, ''To say that we are living in interesting times is an understatement, and Peter has captured the essence of how business will work going forward. Dot.Cloud is both visionary and realistic in that each of the pieces of the vision have working examples today, but not woven together like in this writing." Gregory Simpson, Chief Technology Officer of GE, remarked, ''Dot.Cloud isn't just about the Cloud; it's really about embracing change in the workplace. Peter's unique ability to pull all of these concepts together in an understandable fashion make this a business book for the future, and the future is now!'' [Description] Click on book cover to learn more. English, Russian editions. [Description]
Enterprise Cloud Computing. No one needs to know more about the business implications of Cloud Computing than C-level executives responsible for the future of their organizations, for the wow isn't just about technology, it s about the promise of on-demand business innovation. But even more than understanding this new wave, they need to act, and act now. Written by industry veterans with a combined leadership experience of over 100 years at the intersection of business and technology, Enterprise Cloud Computing provides strategic insights, describes the breakout business models and offers the planning and implementation guidance business and technology leaders need to chart their course ahead. [Description] Click on book cover to learn more.
The Insiders' Guide to BPM. BPM big wins have been limited to a small cadre of process masters... but not anymore. Now everyone is just 7 steps away from process mastery. This book draws out the 7 steps that can help you master your processes. This book is your insiders' guide to making BPM work for you. Whether you're seeking the insights to consistently achieve goals with BPM, looking to move yourself from moderate success to big wins, or wanting to keep hitting those process home runs, this book is for you.
[Description] Click on book cover to learn more.
The Death of 'e' and the Birth of he New Economy. The Internet makes possible an entirely new way of doing business and competing. Economic transactions become frictionless as they move from places to spaces. This book distills what management needs to be doing and thinking today to prepare their companies for the ride ahead. Now that doing business on the Internet is reaching the mainstream, it's no longer e˗business or e˗commerce --it's just business and commerce. The authors take the mystery out of the profound changes being ushered in by the ability to connect anyone-to-anyone or any computer-to-any-computer across the globe. The book signals the death of the e-hype and the beginning of the real work of building corporations that will thrive in the years ahead. [Description] Click on book cover to learn more.
Enterprise E-Commerce. This comprehensive guide takes a holistic view of business and technology, enabling CEOs, COOs, CTOs, CIOs and project development teams to move boldly into their post dot.bomb e˗Business initiatives. Unique among the many books written about e-Business, this book addresses the requirements of large-scale, mission-critical applications where agility, scalability and reliability are essential. The book teaches, inspires action, and shares insight from the authors' pioneering work with Fortune 1,000 companies including GE, MasterCard and American Express. It's the one reference business and technology practitioners need to map the road ahead -- and then act decisively! [Description] Click on book cover to learn more.
IT Doesn't Matter, Business Processes Do. From the Library Journal, "Smith and Fingar are both heavily involved in the IT field, notably in the area of business process management. They have written a vigorous rebuttal to Nicholas Carr's provocative article about the commodification of the IT industry, which was published in the May 2003 issue of the Harvard Business Review and drew some notable rebuttals from the New York Times, the Washington Post, and other sources. Instead of proclaiming the death of IT, the authors see a new age dawning of business process management (BPM). They dispute the idea that in many ways IT has become a utility and assert that business processes are taking over where data processing has left off. ... a spirited commentary on a controversial subject and a strong defense of the importance of the IT industry." Read more.
Extreme Competition: Innovation and the Great 21st Century Business Reformation. "Peter Fingar has fused a gem of a book under the pressure of the need for change. I started to read Extreme Competition and I could not put it down until I finished it, except what was necessary to sustain life. I rarely take time to "drink in" a book about business revolution, but this book has the potential to guide a significant change in the way we look at business." --Jim Sinur, VP Distinguished Analyst, Gartner Research. Read more.
[Description] [Don't Miss the Wake-Up Call presentation!]
Business Process Management: The Third Wave: Seminal book on BPM. This book heralds a breakthrough that redefines competitive advantage for the next fifty years. Don't bridge the business-IT divide: Obliterate it! The book is the first authoritative analysis of how third-wave business process management (BPM) changes everything in business and what it portends. While the vision of process management is not new, existing theories and systems have not been able to cope with the reality of business processes --until now. This book describes a radical, simplifying shift in process thinking and technology that utterly transforms today's information systems and reduces the lag between management intent and execution. Read more.



The Real-Time Enterprise: Powering Profits with Process Automation. This book goes under the covers of the buzzwords and hype to examine the many facets that make up the notion of a real-time enterprise. It shares insights gained from the authors experiences on the front lines with pioneering companies that have already recognized what it means to become a process-managed, real-time enterprise, and are working intensely to become such. The book also assesses its implications for business strategy. The book's answers the question of what the real-time enterprise portends for competitive advantage in business. Read more.
In Search of BPM Excellence. Business process innovation is on the minds of executives these days, and for good reason. In the 1990s, companies also had a focus on business processes. They used enterprise-wide networks to tear down walls between functional departments and reengineered their companies to remain competitive. Today, the universal connectivity of the Internet makes it possible to tear down walls between companies to reinvent entire value chains. The result? We are now witnessing a grand globalization of white collar work, outsourcing, offshoring and other new forms of extreme competition. Industry and national boundaries have become a blur. All is changed, and no industry is exempt. Pioneering companies have already disrupted incumbents and come from nowhere to dominate their industries. Their secret sauce? Business process management (BPM). This book brings together some of the best minds to explore the role and value of BPM, and what it portends. In its pages you will find the essential discussions and insights, straight from the thought leaders. Read more.
Next Generation Computing: Distributed Objects for Business, with Dennis Read and Jim Stikeleather, Cambridge Universtiy Press and Prentice-Hall. "The book's unconventional presentation of short, crisp papers on all the essential topics makes it a must-read for the new generation of business and technology leaders."
-- Scott McNealy, President and CEO, Sun Microsystems.
The Blueprint for Business Objects. Cambridge University Press and Prentice-Hall. "This is truly a synthetic work, bringing in knowledge not only from the object world, but also from business process management and organizational change. I strongly recommend it for anyone charged with implementing a reengineering program, or for that matter any major change in organizational direction." -- Thomas H. Davenport, Professor and Director, Information Management Program, University of Texas Graduate School of Business.
Peter's First-ever book... Way Back... Decades Ago!